Review Series
1:
Blanco Sink - 3 stars
2:
Rinnai Gas Heater - Not Rated
3:
Fujioh hood FX-900 - 5 stars
4:
Rinnai Tumble Dryer RDT-600CG - 5 stars
5:
Rinnai Oven RBO-7MSO - 3 stars
6:
Bellari Liquid Dispenser - 1 star
7:
Rinnai 2-Burner Hob RB-2CG - 5 stars
8:
TOTO Omni Toilet Bowl- 5 stars
9:
Asuka Acrylic Worktop - 2 stars
10:
Premier laminated floor tiles
Note
: This is an older post that is being revamped and rewritten to better serve readers, as some of you asked where to locate my old post on the TOTO Omni. Well, the
link
is here and pending revamp, is herein reproduced intact.
Meanwhile, my verdict after using the TOTO product in the past 3 years since installation is:
TOTO Omni Toilet Bowl
Verdict: 5 out of 5 starts - Highly Recommended!
Reasons are as in this post. My good impression has not changed. Plus I will add add'l positive observations.
TOTO Omni Model CW867JT 1/254-V1(W) S$706.20 from Fullsun Marketing
Aside from a review of the TOTO flushing mechanism, we would also talk a bit on our choice of toilet bowl.
Flush mechanism
According to the
literature
, TOTO flush mechanism combines a special pump to create a powerful water jet, extra-large trap size of 2-1/8" vs 1-3/4" for others, larger 3" flapper valve size vs 2" valves commonly used in others, and a specially contoured bowl to give a "cyclonic" effect to the water flush, all to produce an efficient flushing system using only 6 liters of water.
Our experience using the TOTO Omni seems to bear that out. A light touch on the top valve releases the water, the sediment was flushed quickly and completely from the bowl in 6 seconds.
Not only was flushing good and effective, the toilet bowl fills up within 15 seconds! That was probably due to the fact only 6 liters of water was used in the flush.
We did not dismantle the flush mechanism to see if we could adjust the water volume in the tank, although that seemed feasible.
Maybe if we need to in future we would attempt that. But for now we could not find any issues with the flush system.
Simple, compact and uncluttered flush mechanism
All-plastic construction, no rust! Water level before the flush..
Clears and empties in one flush: water level after the flush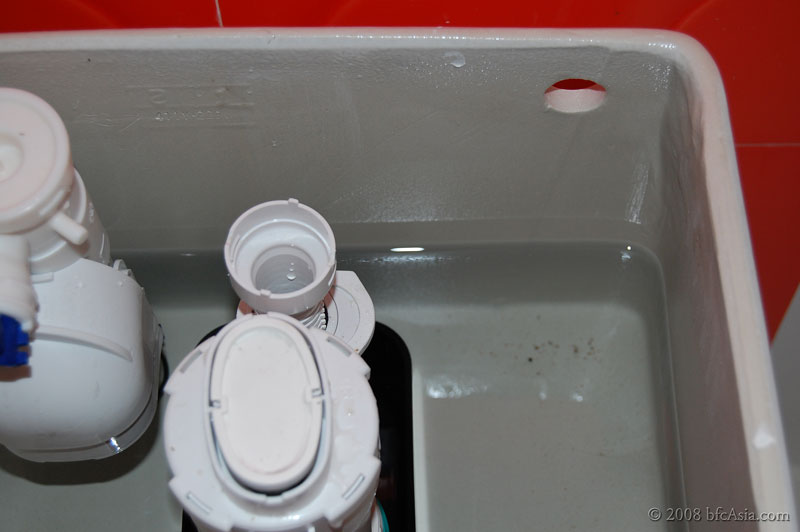 Why TOTO Omni ?
In one word - Design.
We love the clean, simple one-piece design.
Design is important if your toilet is bare, basic, utilitarian -- as ours is.
Our HDB flat came with only one toilet. The toilet was barely big enough - comfortable for one person, yes - but not big enough to accommodate a hand basin. The toilet was a separate enclosure from the bathroom, and it had a squat toilet. We therefore decided we needed a nice-looking toilet bowl to break the monotony and spruce up the stark, utilitarian image. Even if that meant breaking our budget. After all, we only had one single toilet for the whole apartment !
Of course, the toilet bowl not only had to look good, it must also perform flawlessly.
Not more than one flush. That was our benchmark. Some toilet bowls require two flushes to clear the bowl completely. One flush, and you could still see some sediment left behind...
haven't you experienced that?
But before you install, how could you know if the toilet bowl needs one or two flushes? The showroom doesn't provide that kind of info. Ask the sales staff, and they will tell you what you want to hear. Not a reliable way to get info, isn't it?
And no dealer will guarantee its toilet bowl clears in one single flush.
Faced with the dilemma, we googled for information on the net. We found all the big boys e.g. American Standard, TOTO, Kohler, etc have their own patented flushing systems. We were also able to see their latest designs on the net.
We finally decided to go with TOTO. Their sanitary ware designs were simply elegant and graceful.
And we decided TOTO could not become the market leader in Japan (and possibly the world)
unless
its products were excellent and did what the company claimed. Therefore its flush system had to be more than acceptable. Our assurance was in the reputation of the brand.
We were also impressed TOTO was always trying to advance the state-of-the-art in toilet technology. For instance, we were surprised TOTO was already into washlets in Japan in the 1980s, when only now washlets are being introduced to the world. We know not of any other sanitary ware manufacturer that produces or markets washlets at this time.
TOTO's
NEOREST range of washlets
seems to be the rage now. Ever seen a toilet bowl opening its lid to welcome you as you enter the toilet? Or wash your bum with warm water after you have finished your business? Even clears and sanitizes the bathroom of bad odor after you? It even automatically flushes and closes the seat as you walk away!
See more happy bums
here
.
TOTO Washlet
That was one reason we chose the Omni toilet bowl. We just need to provide an electric power socket near the bowl for the washlet. In future, if we want to we could simply replace the Omni soft-closing toilet seat with any of the TOTO washlet models we fancy, plug in the washlet, and we're done! It's that simple !
Future-proof indeed!
Review Series
1:
Blanco Sink - 3 stars
2:
Rinnai Gas Heater - Not Rated
3:
Fujioh hood FX-900 - 5 stars
4:
Rinnai Tumble Dryer RDT-600CG - 5 stars
5:
Rinnai Oven RBO-7MSO - 3 stars
6:
Bellari Liquid Dispenser - 1 star
7:
Rinnai 2-Burner Hob RB-2CG - 5 stars
8:
TOTO Omni Toilet Bowl- 5 stars
9:
Asuka Acrylic Worktop - 2 stars
10:
Premier laminated floor tiles