BATHROOM: Hiding Bathroom Pipes
Large hardboard panels conceal the ugly pipes.
BATHROOM: Metal Framework - Top
BATHROOM: Metal Framework - Bottom
BATHROOM: Hardboard Panel for Partition
BATHROOM: Partition wall ready for tiling
BATHROOM: Completed Partition Wall after Tiling
KITCHEN: Hardboard Panel Top
KITCHEN: Hardboard Panel Bottom
KITCHEN: Completed Partition Frame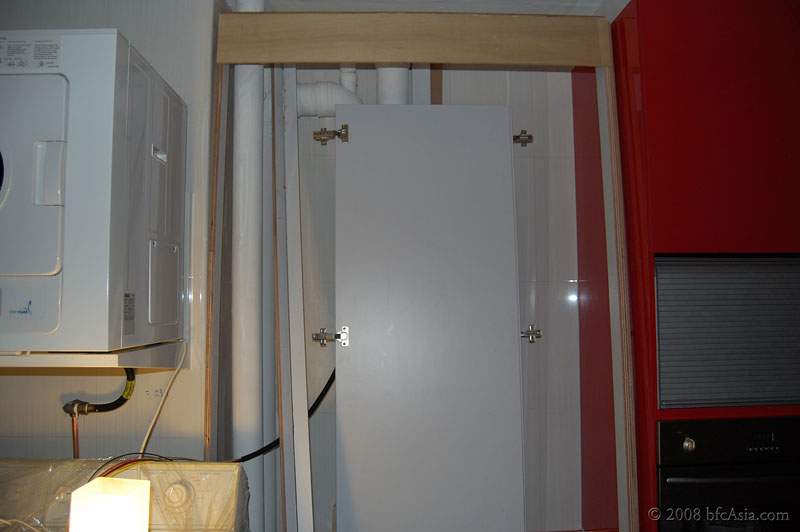 KITCHEN: Completed Door Panels - hiding ugly pipes
ACCESSIBLE OR PERMANENTLY FIXED PANELS?
Now, how do you decide whether the panels should be easily open and accessible with a 'door'? Or the hardboard fixed permanently?
Well, the big kitchen pipes sometimes blocked - some neighbors were careless or indifferent - resulting in flooding your beautiful kitchen! Therefore you must make provision for this potential flooding problem by hiding your big pipes behind open and accessible hardboard panels. That will meet HDB guidelines.
Kitchen: Flooded!
Kitchen: Debris entered kitchen from flat units above
Kitchen: water subsided after 5 hours
One-inch Stainless Steel Pipe
As for the 1-inc stainless steel pipes, you don't have to hide them all of them, depending on the pipe layout.
Pipes that are unlikely to be blocked e.g. the inlet pipe carrying water from the utility board - can be concealed permanently behind fixed panels or hidden unobtrusively behind secondary walls. Use your creativity and imagination. Such as routing the pipes to run inside the toilet and bathroom instead of the kitchen.
Before Running 1-inch Stainless Steel Pipe
Water Pipe to Rinnai Clothes Dryer
Water Pipe to Rinnai Clothes Dryer
Related Posts
1
Workmanship: Hide Ugly Pipes - Kitchen
2
Workmanship: Hide Ugly Pipes - Bathroom/Toilet
3
Workmanship: Hiding Pipe: Accessible - HDB Guidelines
4
Workmanship: Plumbing