HDB flats built in the seventies and early eighties focused only on the basics. Aesthetics if any were very much an afterthought. The kitchen in my flat showed that design approach: water, sewage and air pipes were all over the place. All placed without a thought as to how they would affect the bathroom or kitchen layout.
In our kitchen I counted a total of eight pipes. Eight !! I was astonished there were that many.
Three thick ugly pipes were bunched at one corner of the kitchen. As access has to be maintained to the pipes, the ID suggested making floor-to-ceiling doors to hide the pipes.
I felt the ID's idea was an overkill. "The placement of the fridge at the corner will hide the pipes," I countered.
Fridge will hide those pipes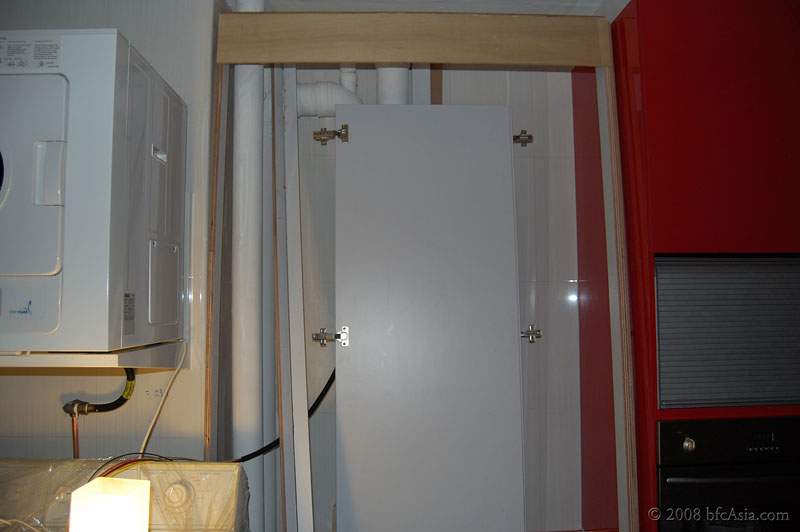 Later I accepted his idea when I detected an occasional stench coming from the floor trap that was connected to the main discharge pipe. Boxing up the corner with floor-to-ceiling doors would reduce the stench, I thought, before a more permanent solution was reached with the authorities on the stench issue.
Ensuring true vertical with spirit level
Making cuts to fit the frame to the wall
Door frame completed
Taking measurements preparatory to cutting the glossy white laminate
Applying the white laminate to the frame with glue
Viola! Completed Door Panels - no more ugly pipes
Mr Sia the lead carpenter told me he entered the trade at the age of 13. Now 31 years old, he had made it all: tables, chairs, beds, wardrobes, kitchen cabinets. Even houses constructed from timber and wood planks upto two storeys high!
The guy was extremely hardworking, skipping lunch to continue the work. He was meticulous and took obvious pride in his craft, working a total of 4 (!!) hours to complete the frame and door. I was also impressed with his personality: never once did he raise his voice at the 17-yr old apprentice who was his understudy.
Both guys were Malaysians from Johor. In some perverse way I felt fortunate the Malaysian state had not prospered to the same extent as Singapore. Otherwise we would be paying much higher prices for excellent skills and talent from across the Causeway.