Liquid Dispenser
In our old kitchen we cleaned the dishes with a liquid detergent contained in a plastic bottle dispenser at the kitchen sink. The bottle dispenser was placed in the sink bowl, sometimes on the countertop. Owing to the humid condition, mold soon grew on the dispenser bottle. We had to clean the bottle repeatedly to rid it of the black mold.
For the new kitchen we decided to use a stainless steel liquid dispenser that is mounted on the kitchen sink, and so bought the Bellari Liquid Dispenser after looking at liquid dispenser models from Hoe Kee, SSC, and one that is made locally.
A mounted liquid dispenser at the sink presents a prettier sight and avoids black mold growth on the bottle dispenser.
Bellari Liquid Dispenser Model DS01 S$39 from The Bellari Shop
Basin Tap
For the basin tap we wanted one that dispenses only cold water, since we decided against having hot water at either the kitchen sink or wash basin.
We chose a squarish design for the basin tap to fit the rectangular DECA wash basin.
Renee Basin Tap Model E321 S$80 before GST from Adamas Bathroom PL
Bidet or hand spray
In the past we couldn't figure out what other uses a bidet or hand spray performs aside for washing up after doing one's business in the toilet. So we didn't fix one.
In our new toilet we decided a bidet would be useful in cleaning the toilet bowl, aside from its use by guests who want to use it after using the toilet. For that purpose we will install a soap holder next to the bidet in the toilet.
Hand Spray Set Model 2907 S$35 from Poh Joo
Clothes Rail Model V3 (S$18) & V5 (S$26) Poh Joo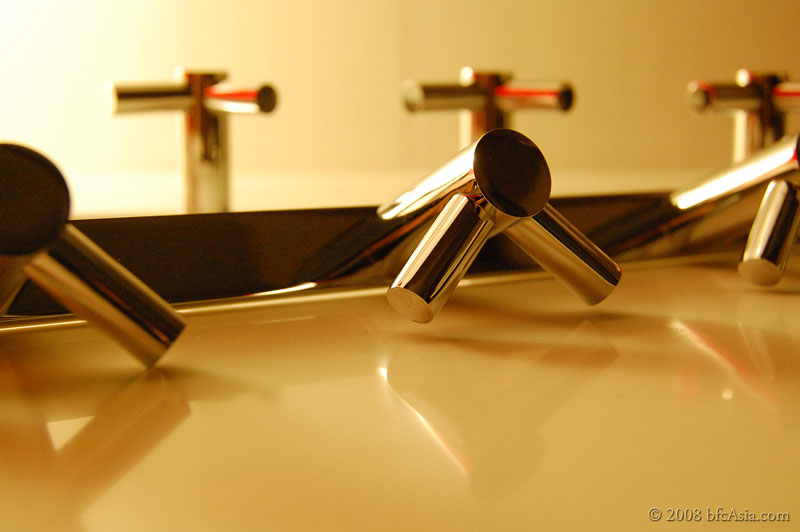 Soap holder
As there is no shelving in the toilet, we decided to fix a soap holder to complement the bidet spray in the toilet.
A soap holder is unnecessary in the bathroom as there is a stainless steel rack with two glass shelves for shampoos and other shower needs.
Likewise for the wash basin, provision has been made to fix a liquid dispenser on the wash basin.
Roddex Soap Holder Model 7303 S$28 from Poh Joo
Union Tap Stainless Steel Model 2154 for Washer, S$8.50 Poh Joo